I never got to go to prom.
It's sad, and I'm obviously deprived, but I never got to go.
Apparently if you don't turn up to half your classes, are constantly late and are well known for being a "bright young woman with potential - if only she'd apply herself!", prom is out of question.
This is actually relevant, I promise.
I'm lucky enough to have a boyfriend whose work holds a proper Christmas 'do [could I sound more British?], and I get to spend a night at the British History Museum looking fabulous at a black tie event.
Black Tie events are kinda like proms, right? Just with more legal drinking, no after parties, and less likelihood of unwanted teenage pregnancies, right? Right?
Right.
If you're following me on
Pinterest
, you might know that I have a
Cocktail Dress Inspiration
board. The Inspiration part comes in the form of - I get to be
that person
that makes their own dress.
I'm going for cocktail for two reasons;
Wikipedia said I could.
I don't want to hire something and end up looking like this;
I sometimes have nightmares that I'll end up transported to the eighties and have to wear a wedding dress with sleeves like this.




Okay, three, because it looks classy as fuck.
Okay, okay. FOUR. Because sometimes it IS cheaper to make your own - and it's the run up to Christmas. Meaning I'm broke.
So after a relentless search of Google/Etsy/Ebay/Pinterest, I really couldn't stop thinking about this dress from
Aiseirigh Vintage on Etsy
.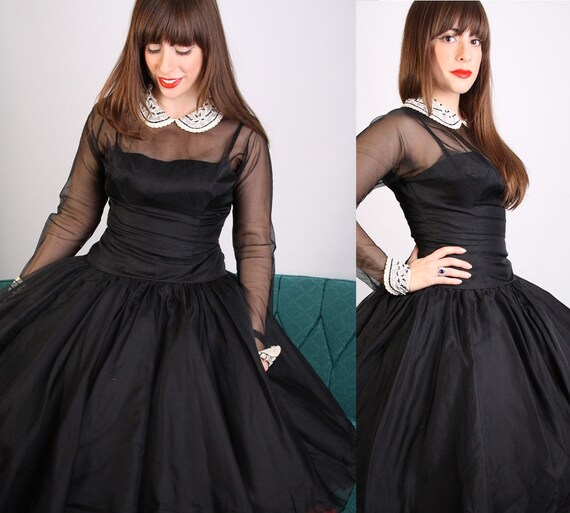 Look at it! It's gorgeous and full, and the overlay had my head dizzy! I mentally ticked it off on my list. I needed something along these lines. Dressy, but not "I will only ever wear this once" dressy.
Making clothes that only get worn once or twice is up on my "I really hate this" list, next to
Georgia Jagger
and the
Go Compare Man
.
And so pencil to paper, this happened;
So basically, I'm making a black taffeta dress, a simple sweetheart-neckline circle dress, but the fabric should have a nice sheen to it to create a more "luxe" feel to it, and an accompanying dobby print lace pullover, which will be a frankenpattern of both Gertie's Bow Tied Blouse and the kimono sleeves of her Wiggle Dress, from her
New Better Book for Sewing
.
What I wanted to create is an illusion of the mesh-topped dress, with the option of wearing the pieces separately, and as taffeta can be heavy, without creating any pulling of the lace when it's hanging up.
Basically, something simple, but pretty, with wearability outside of a Black Tie Event.
What do you think?
What would you wear to a black tie event? Post all your beautiful dress ideas in the comments, I fancy looking at pretty things instead of looking at the mess of fabric/patterns lying around my sewing table!!
Melody♪
Sorry for the break in posting, I'll post more now that my hand is slowly becoming less of a pain

!